"Differential GPS involves the cooperation of two receivers, one that's stationary and another that's roving around making position measurements. The stationary receiver is the key. It ties all the satellite measurements into a solid local reference. Here's how it works:" -- Trimble Navigation Ltd.
GPS Tutorial by Trimble Navigation Ltd.
DGPS Tutorial by Trimble Navigation Ltd.
GPS OVERVIEW by Peter H. Dana
National CORS - The National Geodetic Survey (NGS), an office of NOAA's National Ocean Service, coordinates a network of continuously operating reference stations (CORS) that provide Global Positioning System (GPS) carrier phase and code range measurements in support of 3-dimensional positioning activities throughout the United States and its territories. Map Newsletter
NDGPS - The U.S. Coast Guard is part of the seven-agency partnership for the Department of Transportation's Nationwide Differential GPS expansion initiative to provide DGPS signals for public safety services. The Coast Guard brings its expertise in building, operating and maintaining DGPS sites to the partnership. The other members of the project include; U.S. Air Force, Federal Railroad Administration, U.S. Army Corps of Engineers, Federal Highway Administration, National Oceanic and Atmospheric Administration, and the Office of the Secretary of the DOT. Maps Site Status
Some Differential Reference Datums
Performance Parameter Tradeoff Analysis for a Nationwide Differential GPS Service
National Aids To Navigation School
USDA FS GPS Community Base Stations
Trimble: GPS Data Resources
o Beacon Reference Stations
o Find a Base Station
CDGPS - The real-time Canada-wide DGPS Service

IGDG (Internet-based Global Differential GPS) is a uniquely powerful and flexible C-language software package that provides a complete end-to-end system capability for GPS-based real-time positioning and orbit determination.
John Deere's StarFire System: WADGPS for Precision Agriculture - NavCom Technology Inc., a wholly owned subsidiary of John Deere & Co., together with the Precision Farming Group of John Deere, have designed and implemented a Wide Area Differential GPS (WADGPS) system which provides a new level of accuracy across continental distances. The system is designed for dual frequency operation... See Technical Papers
OMNISTAR Wide-Area Differential GPS Service is a wide-area differential GPS service, with many widely-spaced Base Stations used in a multi-site solution. Sub-meter positioning is achievable over most of North America.
LandStar - LandStar is a differential GPS service providing 24-hour accurate and reliable real-time positioning throughout North America. The system derives basic correction data from a network of twelve differential GPS reference stations located throughout the continent. Each differential station is dual-threaded for full equipment redundancy. Racal LandStar - North American Division
Obtaining raw data from some Garmin units - Raw data is sent through undocumented async messages when enabled with the appropriate command sent to the RS232 port of your unit. Learn how to do it, and what you can expect (apart from learning a lot of the GPS system and your GPS receiver) from playing with pseudoranges, carrier phases, etc.
DGPS Corrections via Internet from Wolfgang Rupprecht If you have a Netbsd/Openbsd/Freebsd/Linux machine, then grab the following, compile, install and run "dgpsip". It's released under Gnu Public License. Version 1.14 now contains a RTCM-SC104 decoder by John Sager. Version 1.17 contains a standard deviation calculator.
Canadian Coast Guard Pacific Region, Marine Aids to Navigation The initial operational service (IOS) of the Canadian Coast Guard DGPS service is now available. On the West Coast, Coast Guard has installed four reference stations. These stations are located at Alert Bay near Port Hardy, Amphitrite Point near Ucluelet, Lulu Island in Richmond and near Sandspit in the Queen Charlotte Islands.
Real-Time Single Difference GPS Positioning - Although the procedure as described in the Single Difference Positioning page is suited for real-time DGPS, it has, besides a number of distinct advantages one big disadvantage: the data volume. An obvious way is to reduce the amount of data by sending the pseudorange corrections in stead of the pseudoranges themselves.
RINEX - The Receiver Independent Exchange Format
RINEX2 - The Receiver Independent Exchange Format
RTCM SC-104 - Transmission Characteristics of Marine Differential GPS (DGPS) Stations
RTCM SC-104 - Recommended Standards for Differential NAVSTAR GPS Service
RTCM SC-104 - This recommended standards document has been developed by RTCM SC-104 to replace the document entitled "RTCM Recommended Standards for Differential Navstar GPS Service, Version 2.0" issued on January 1, 1990. Experience has shown that the recommended data format and message structure were generally sound, and that the 25% overhead required for the parity coding guarantees a highly robust channel for the differential GPS corrections.
RTK, WHAT IS IT? - Centimeter-level accuracy can be delivered by Trimble's Real Time Kinematic, or RTK solutions. For an RTK system, you need to place a base station on a known, surveyed, point. In order to obtain optimum accuracy, your mobile vehicle-based receivers must be within the range of 10 kilometers (6 miles) from your base station. The base station transmits corrections via radio to any number of mobile receivers you have operating in the field. A typical radio link required for RTK is in the UHF, VHF or spread spectrum radio band. Radios operate best within line of sight or with a repeater.
RTK - is based on measuring distances to the satellites with carrier phase. Another analogy of carrier phase is that it is like a measuring tape that has meter-marks and millimeter-marks. But with this measuring tape the meter-mark numbers do not appear instantly when we lock to satellites. We have to wait for the meter-mark numbers to appear and become clear (like a Polaroid picture) to be able to measure the distances. This is the time that we have to wait to determine the "initial unknown integers". The more we wait the meter-mark numbers become more clear (like a Polaroid picture). When meter-mark numbers become clear they remain clear and we can make instantaneous accurate measurements repeatedly until we lose lock to satellites in which case the meter-marks disappear again. When this happens, we have to wait for them to re-appear after we re-lock to satellites.
RTK - Search of RTK articles from GPS World.
Tucson Amateur Packet Radio Corp (TAPR) is an international organization dedicated to amateur digital communications. The ARRL and TAPR Digital Communications Conference is an international forum for radio amateurs in digital communications, networking, and related technologies, who meet, publish their work, and present new ideas and techniques for discussion. Presenters and attendees have the opportunity to exchange ideas and learn about recent hardware and software advances, theories, experimental results, and practical applications. The Digital Communications Conference is not just for the digital expert, but for digitally-oriented amateurs at all levels of expertise.
DGPS Corrections via Internet from Wolfgang Rupprecht If you have a Netbsd/Openbsd/Freebsd/Linux machine, then grab the following, compile, install and run "dgpsip". It's released under Gnu Public License. Version 1.14 now contains a RTCM-SC104 decoder by John Sager. Version 1.17 contains a standard deviation calculator.
Southern California Integrated GPS Network (SCIGN) - SCIGN is an array of Global Positioning System (GPS) stations distributed throughout southern California with emphasis on the greater Los Angeles metropolitan region.
Wide Area Augmentation System (WAAS)
WAAS Satellite Status
Wide Area Differential GPS (WADGPS) Laboratory is a subgroup of the GPS Laboratory at Stanford University and is closely affiliated with the Local Area Augmentation System Lab. Our research focuses on GPS navigation aids for aviation in all phases of flight. We're located on campus so stop by Durand 060 for a visit. Publications
NOTICES TO AIRMEN
WAAS NSTB Data
GPS WAAS Accuracy by David L Wilson
WAAS Overview from Garmin
National Satellite Test Bed
WAAS - PRN 122 (Garmin 35) - Inmarsat 3F4 (AOR-W 142.0°W)
WAAS - PRN 134 (Garmin 47) - Inmarsat 3F3 (POR) 178.0°E)
WAAS - PRN 135 (Garmin 48) - PanAmSat (LM RPS-1 133.0°W)
WAAS - PRN 138 (Garmin 51) - Anik F1 (LM RPS-2 107.3°W)
C/A PRN Code Assignments
L2C PRN Code Assignments
L5 PRN Code Assignments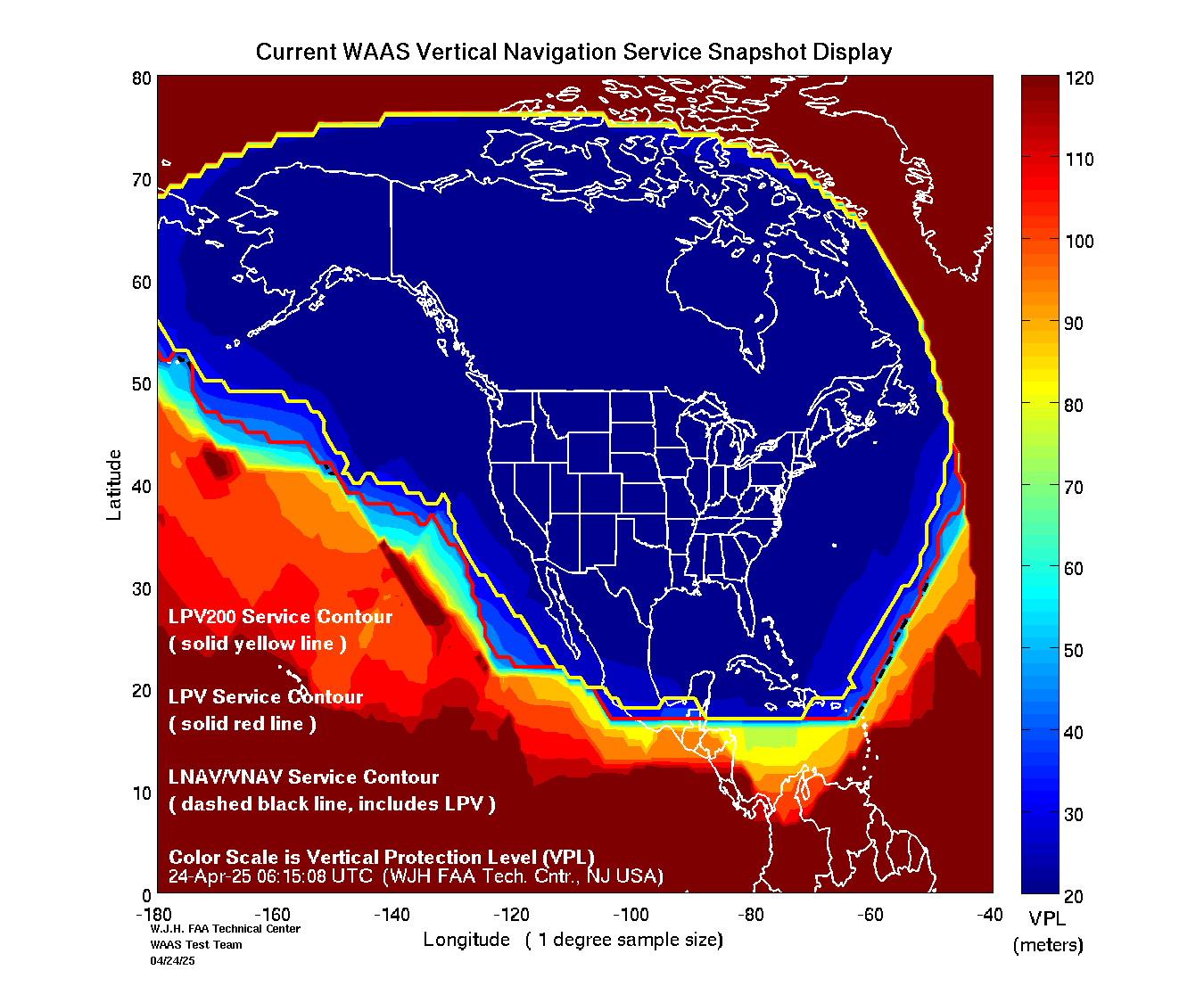 WAAS SAtellite Status
Latest WAAS PAN Report - Executive Summary

© Copyright 2009 - Samuel J. Wormley


by swormley1@gmail.com